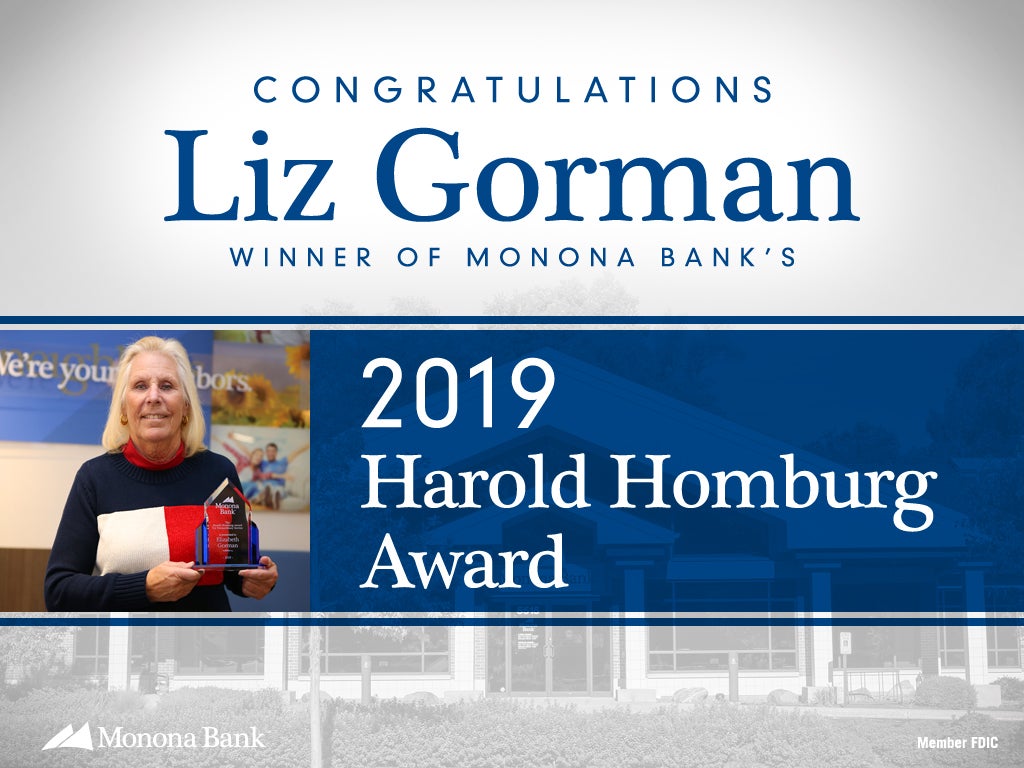 Every year our bank's leadership team selects an associate to recognize that we believe has demonstrated extraordinary service to our clients and loyalty to our bank and community. The recipient must be someone who has demonstrated a deep devotion to our clients and community, just like one of our founding directors, Harold Homburg, always did.
This year, the vote for our 2019 recipient was unanimous. As soon as her name was brought up, everyone knew she was the perfect person to receive this prestigious award. We would like to congratulate Liz Gorman on her selection to receive the 2019 Harold Homburg Award. Liz has been with Monona Bank for 18 years and has always put the well-being and success of her clients first. In addition to her work with clients, Liz has always been a great source of knowledge for her team at Monona Drive and many of our associates at all nine of our locations in and around Dane County.
Outside of the office, Liz is a very active member in our communities. She's been an active member of the Monona Festival Committee for many years, while still volunteering for both the Monona Memorial Day Parade and Monona Fest. Most recently Liz has reached an amazing milestone of donating platelets to the American Red Cross, 250 times. Her work on changing the lives of others continues to reach beyond our area communities!
The Harold Homburg Award was created after Harold passed away five years ago in 2015 as a way for us to keep his memory alive and remember his passion and loyalty to both our bank and the communities we serve.
Thank you Liz for your continued dedication to our community and to Monona Bank!