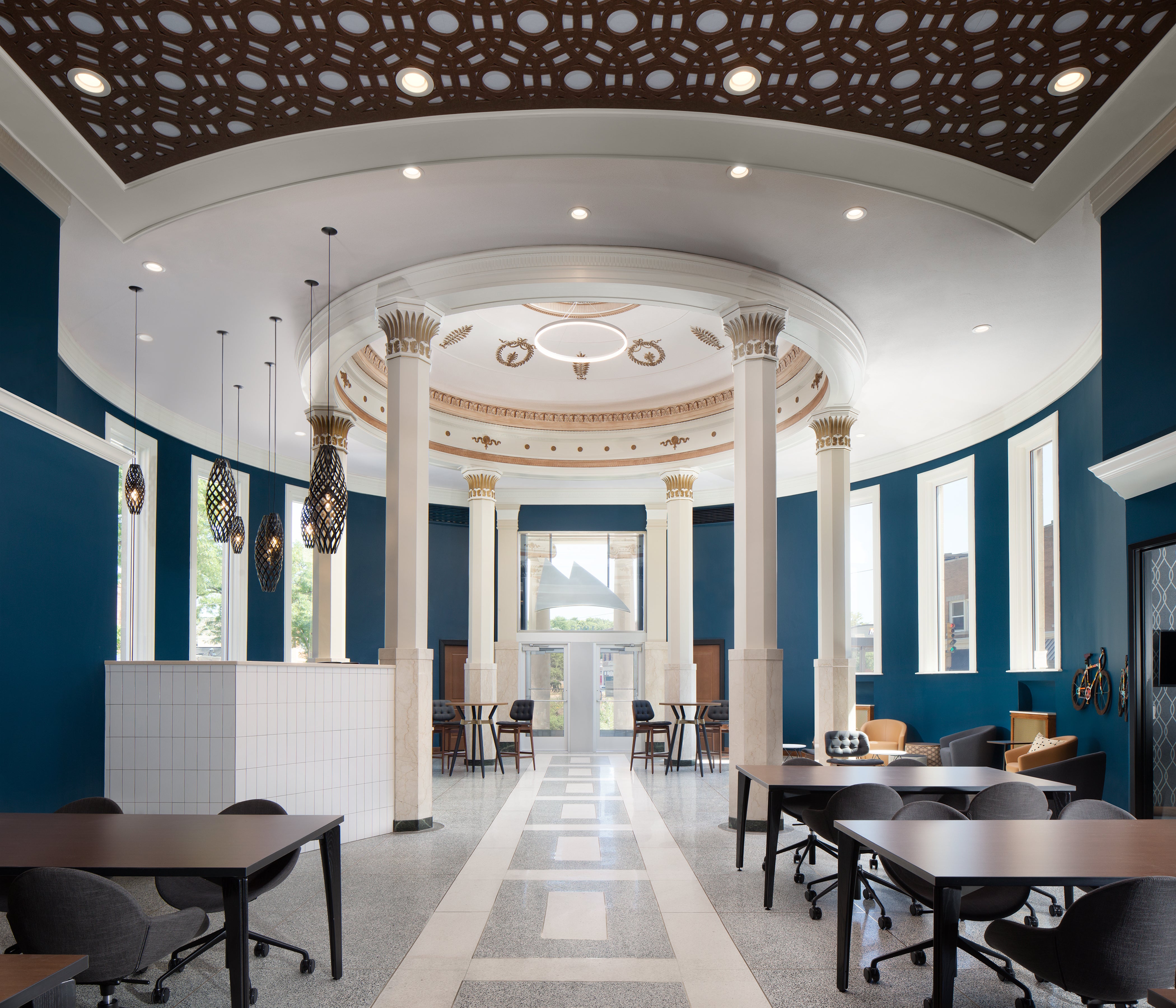 After months of renovation work, our newly updated Schenk's Corner location and in-lobby Rotunda Café, are now officially open for business! Thursday afternoon, with help from the Greater Madison Chamber of Commerce, staff from Monona Bank and the owners of the Rotunda Café cut the ribbon to celebrate the official opening of our stunning new bank, café and neighborhood work/meeting spot.
Monona Bank President & CEO, Paul Hoffmann, stated, "While we've been unofficially open for several months, we wanted to reopen this location slowly to ensure we could open our doors while still providing a safe space for our bank and café clients." He is especially excited about the warm welcome the new space and café have seen over the past few months. Paul added, "We've found that people are really excited to get out of their homes for a little while, and having a safe, socially distanced space to enjoy a cup of coffee and a snack, maybe do some banking at the same time."
Ben Udell, Monona Bank's SVP of Retail, presided over the event, while Branch Manager, Joy McMerty, and Atwood associates Ariel Neumann and Micha Petersen did the actual ribbon cutting. Ben spoke about how requests from the neighborhood for space to meet and hang out with coworkers, family and friends drove the design of this location. Ben shared, "we really wanted to create a welcoming space that would provide much needed meeting space for our work at home neighbors." The Rotunda Café and open community space provides a great place to enjoy some coffee and food from the adjacent café, do some banking, host a podcast or just people watch. He added, "we really worked hard to be eco friendly, reusing existing materials whenever possible like the old marble and fixtures, and even turning our huge old vault into some really cool meeting space."
We invite everyone to stop down to check out our beautiful new Schenk's Corner location. And don't forget to try the locally roasted coffee while you're there.