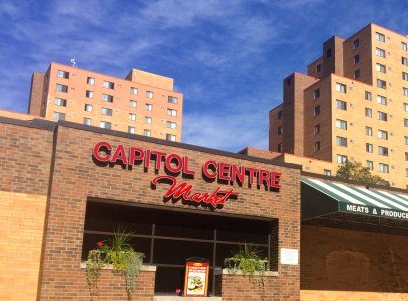 Do you ever feel like your bank has become too large? That is what happened to Mitch Eveland from Capitol Centre Market, in Madison, when he choose to make the switch to Monona Bank.
With more than 40 years of experience in the grocery industry, Mitch Eveland, owner of the Capitol Centre Market in downtown Madison, decided it was time to expand his business. In addition to his market off Broom Street, he wanted to build a brand new 48,000 square foot supermarket in Lake Mills. Mitch reached out to Monona Bank and found that since there are not a lot of layers at our bank, he was able to get what he wanted done fast and efficiently. More importantly, he saw firsthand how dedicated our team was to not only learning about his business, but also about helping him to meet his goals and move his company forward.
Shortly after his new Lake Mills Market opened in January 2014, Mitch decided that his Capitol Centre Market in downtown Madison also needed an upgrade. Luckily, his business banker, Laura Peterson, was there to help him every step of the way. From the planning process to checking in on how the construction progress was going along the way, she was there. Even after the completion of the project, Laura sat down with Mitch to come up with a plan to ensure his company will be financially sound for years to come.
To learn more about Mitch's story, watch the video in the link below:
Our Relationship with Capitol Center Market
Monona Bank is excited to see Mitch's company continue to thrive and are glad we could play a role in his success.
To learn more about how Monona Bank can help you and your business, contact one of our Business Bankers today!