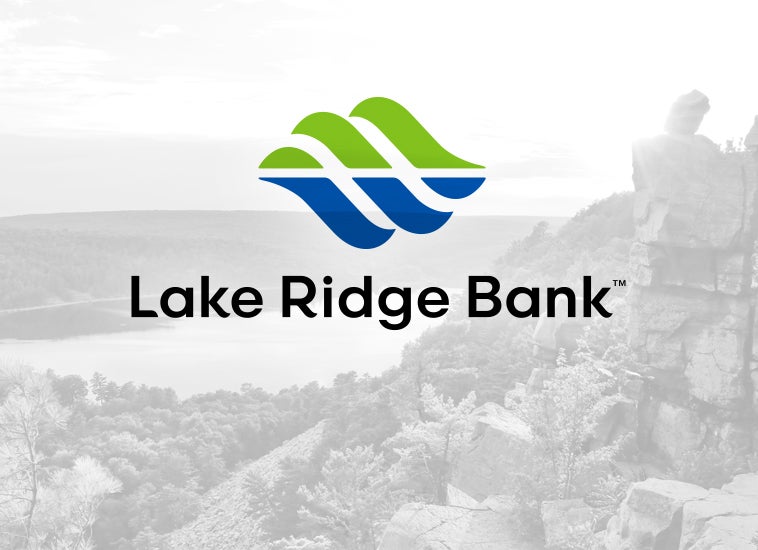 In March, State Bank of Cross Plains and Monona Bank announced our Merger of Equals. We knew right from the start that one of the most important decisions we would need to make was what to name our new bank. And this turned out to be much more difficult than we could have ever imagined. How were we going to take two established community banks, with great reputations in South Central Wisconsin, and come up with a name to capture what our new bank means to our communities? Our naming team sifted through hundreds of names and spent countless hours on potential new names until Jim Tubbs, the CEO of our new bank, came up with a name that we all agreed would be perfect to bring State Bank of Cross Plains and Monona Bank together and could lead us into our bank's future.
Lake Ridge Bank.
You might be wondering where this name came from, or even what it means. You would be surprised to know that we think Lake Ridge Bank represents our two banks perfectly as we become one. We took two prominent geographical features of the communities each of our banks' are known for, to recognize where each of our banks came from (our roots) and helped us get to where we are today. The "Lake" is a nod to Lake Monona (and all the lakes around the bank's first location on Monona Drive). The "Ridge" in our new name recognizes the ridges around Cross Plains and the area where State Bank of Cross Plains calls home. We think "Lake Ridge Bank" recognizes the important roles the communities around our banks have played in both banks' success. Not only do the two parts of our new name represent our "home" communities, on a larger scale, they also represent our two features our state is known for. This allows us to show our pride in our "Wisconsin" roots, since we are one of the largest banks in the state.
We are excited to welcome everyone to Lake Ridge Bank. We know you are going to like our new "super" community bank and all the enhanced products and services we will be able to offer you. Clients of Lake Ridge Bank will continue to receive the same high-quality service from the same trusted advisors they have come to know and rely on. We understand that change can be uncomfortable, but our team is working hard to minimize any inconveniences from our merger. We believe that change brings growth and are excited that our merger will provide significant benefits for our clients and the communities we serve, including:
More locations – together, our new bank will have more than 20 offices throughout South Central Wisconsin.
Enhanced product and service offerings.
Increased business loan capabilities
Updated technology for online and mobile banking, and
The same strong community focus and support we've provided in the past.
As we move forward as Lake Ridge Bank, we are proud to be South-Central Wisconsin's true community bank, and will continue to make decisions locally, based on the needs of the communities we serve. Lake Ridge Bank remains dedicated to providing the extraordinary service you have come to expect, being trusted advisors for our clients, and making our communities even stronger.
Go Far. Go Together.