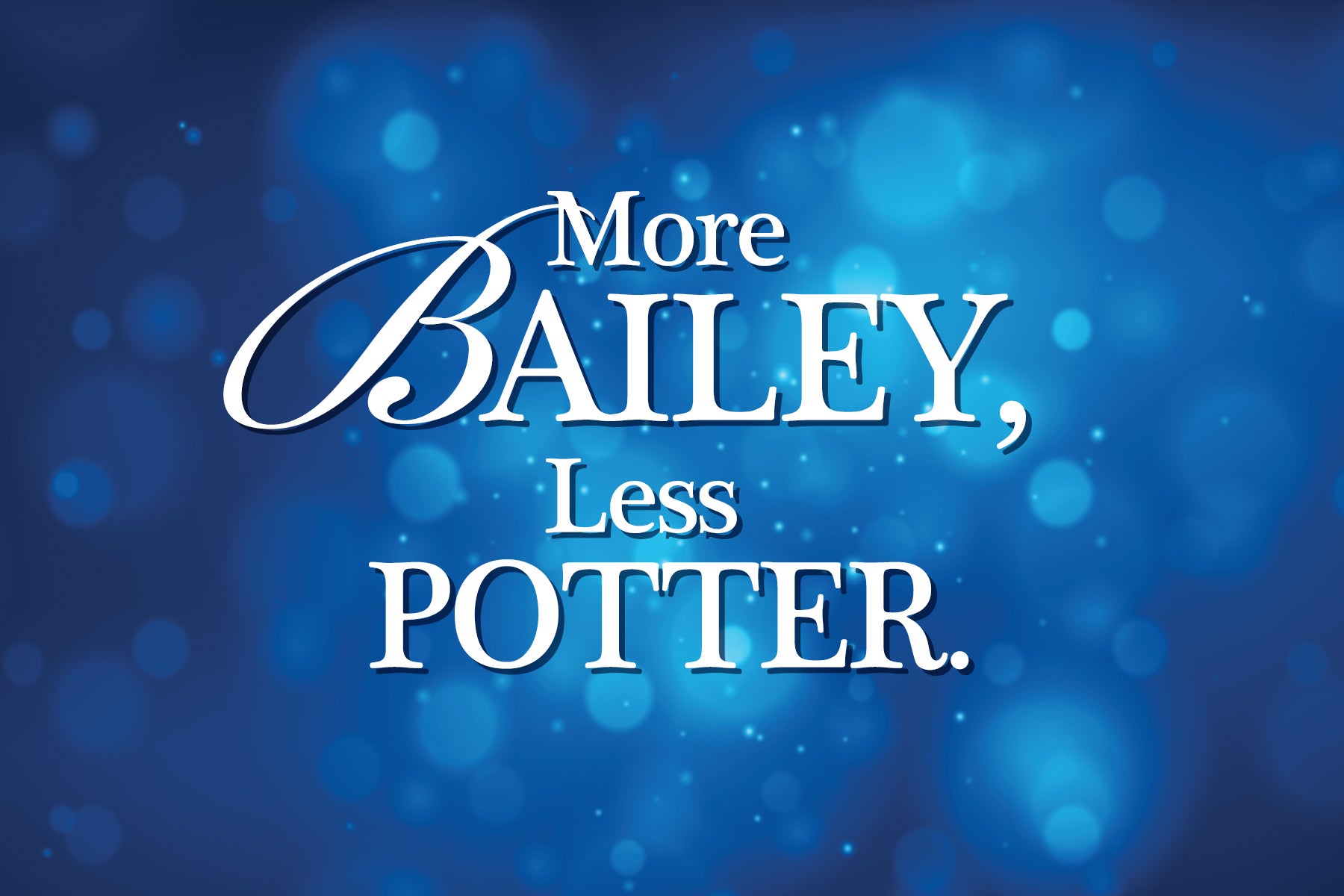 Did you see Monona Bank's "More Bailey, Less Potter" newspaper wrap around the Wisconsin State Journal Thanksgiving recent paper? Every time we run these ads, we get a lot of feedback from both people who love the subtle link to the classic movie, "It's a Wonderful Life," but even more from people asking just what the heck we mean by "More Bailey, Less Potter."
Our "More Bailey, Less Potter" campaign is one of our favorite marketing campaigns, and not just because of the great feedback we receive. If you haven't seen "It's a Wonderful Life," we strongly recommend you grab some tissues and watch this great American classic. It's considered one of the best movies ever made, in fact, the American Film Institute ranked it 20th on their top 100 greatest American films of all-time list.
The movie is a mashup of the classic "David versus Goliath", and "Good versus Evil" stories, that focuses on the small "community oriented" Bailey Building and Loan, and its struggles with the big "profits first" bank in town. Sound familiar? The movie centers on a reluctant banker named George Bailey who is forced to give up his dream of traveling the world to run his family's small Bailey Building and Loan and its mortgage business. The big bank's owner, Mr. Potter, is the meanest man in town who will stop at nothing to take over George's smaller bank to give him a monopoly on the town's banking industry. He wants to stop George from providing fair-priced mortgages to the town's "rabble" to prevent them from leaving his high rent slums. Just like in the movie, today's big banks continue to take over smaller community banks, shifting financial decisions from local experts who understand the local economy, to offices miles away with no understanding of, or desire to reinvest back into, our local economies.
Like George Bailey, Monona Bank believes the right bank can make your life wonderful. Our dedicated team of associates works hard every day to prove this to our clients. We understand that homeownership is a huge driver of a community's success. Not only is homeownership a vital part of many people's financial futures, it also significantly impacts our communities as homeowners work, shop, and invest their time and money back into our local economies. As a locally owned and managed bank, Monona bank's goal is to help our communities prosper and believes our bank will only be successful when our communities prosper with us. That's why, as one of Dane County's largest mortgage lenders, our mortgage experts work hard to find clients the right mortgage, at the best rate possible to ensure they can get into a home and help our communities continue to grow.
The phrase "More Bailey, Less Potter" is much more than just a catchy advertising tagline to us. When you think about it, "being a Bailey" applies to much more than just mortgages and banking. Just think of the positive impact on our communities if we could all start thinking and acting more like George Bailey.
With all the negative impacts COVID-19 has had on our communities again this year, we should all try to be a little more like "Bailey." If we can come together to lend support to our neighbors and local businesses, we can all make it through these trying times together. To be the best "Bailey" possible, we should seek out local coffee shops, restaurants, garages, retail stores and other locally owned businesses whenever possible. It is no exaggeration that our local businesses continue to need our support right now. We encourage everyone to shop at and use the products and services our local businesses offer whenever possible, but especially during the Holidays. Check out danebuylocal.com for a list of area businesses you can support in Dane County.
After another trying year, Monona Bank knows we could all use a little more Bailey and a lot less Potter right now. We hope you'll join us in trying to be a "Bailey" to help make the lives of everyone around us wonderful. Happy Holidays.